Introduction
You might have read a lot about property investment, but think: "How do I actually analyse a property deal?" That's a great question and one that we often hear from investors at Opes Partners.
Today we're going to walk you through a case study of a development of five brand new 3 bed, 2 bath properties that we recently recommended to our clients in Addington, Christchurch.
In this article you'll see the exact analysis I ran to see whether these properties would make good investments. That way you can use the same thinking and process when you are analysing properties for your portfolio.
Regional Analysis
1) At the time, Canterbury was undervalued by about 20%
In early 2020, when these properties were available, house prices in Canterbury had been flat for over 3 years, increasing 2.3% per year since January 2016.
Meanwhile, the median house in the country increased 12.1% in the same period.
In other words, Canterbury was massively lagging behind (and at the time of writing still is).
Canterbury house prices were 20% below their long-term average compared with the rest of New Zealand. Just look at this:
You might initially think that this had slowly happened since the 2011 Canterbury earthquakes. However, Canterbury only started veering away from its historic value 3-4 years earlier in 2016.
Because Canterbury was and is so undervalued compared with its historical average, most investors and property commentators would expect the region to play 'catch-up' with the rest of the country over time.
This exact trend happened in Wellington 3 years prior, where the region's house prices had a sustained increase in value from January 2016 onwards, after being undervalued by 16-18% compared with their long-term average.
Former BNZ Chief Economist of 25 years, Tony Alexander, agreed: "Taranaki, Nelson, and especially Canterbury [house prices] look out of whack [with the rest of New Zealand] ... if I did have a property down Christchurch way, I would feel quite relaxed about its long-term price potential."
These were the key facts we looked at when considering Canterbury as an investment option:
Canterbury house prices were 20% "out of whack" with where they usually sit compared with the rest of the country
3 years ago Wellington was in the same position (Jan 2016), undervalued by 16-18%
Since then Wellington median house prices have increased 81.7% (Feb 2020), earning the median property owner $322,000
If Canterbury experienced just half that growth rate over the next 3 years, the median property owner would gain $193,629 ... and Canterbury would still be considered 10% undervalued.
When you are considering investing in a property, consider how the region's property market currently sits. If the data tells you that the market has been quiet and seems undervalued compared with historic averages, then that may be a sign of a good investment.
However, be aware of changes that have occurred within the region that would suggest the region will never recover to its historical average.
The West Coast region has had stagnant house prices for the last 12 years and has seen no real sign of recovery since the mining boom ended.
Since the region's population is decreasing and industry is flagging, we have less confidence that the property market will experience 'catch-up' growth to bring property prices in line with their historical averages compared with the rest of the country.
Suburb Analysis
2) Addington house prices were the 4th fastest growing in all of Christchurch since January 2000
The Ruskin Ave properties that we analysed are based in the suburb of Addington.
This suburb has been a stand-out performer in Christchurch.
Since January 2000, Addington house prices have grown at 6.06% compounding year on year – the 4th fastest out of all Christchurch suburbs.
In fact, Addington and neighbouring Sydenham were the only central city suburbs that both a) grew faster than 6% and b) had median house prices of $500,000 or below.
For investors, this meant that Addington is both affordable and had quickly increasing house prices.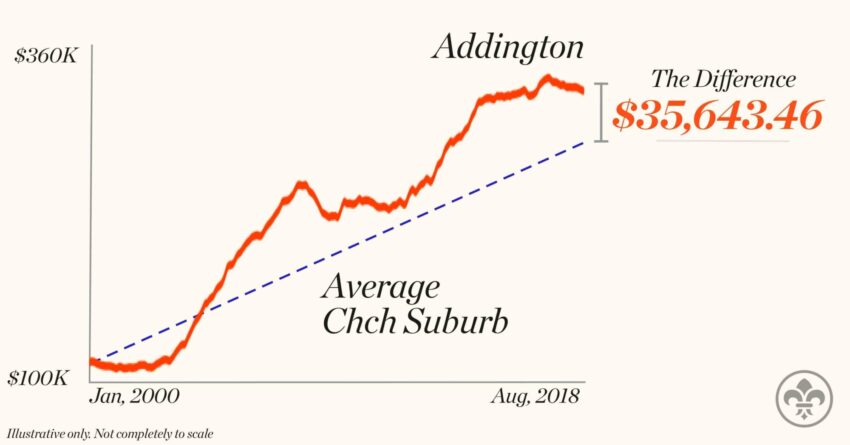 The reason Addington house prices have risen so quickly is because the suburb is placed in the heart of the city.
To the north-west is Hagley Park, Christchurch's largest outdoor park, and then to the north-east, the central city.
In addition, on the other side of Hagley Park sits Christchurch's most expensive suburbs: Fendalton, Merivale and Strowan. These were the other fastest growing suburbs in the city.
In terms of geography, there is no good reason why Addington could not gentrify and increase in value to become like one of these suburbs over time.
That's why when you are considering investment options you should look at the location of the specific suburb you plan to invest in as well as its historical growth rates and its opportunities to continue to grow.
And, of course, you finally need to look at the properties themselves …
Property Analysis
3) Consider comparables within that suburb
These Ruskin St properties were priced at $499,000, which was very sharp for the area.
By looking at QV, we were able to see that nine months ago, 17a Burke St (just around the corner) had sold for $475,000.
That property had 3 bedrooms, 1 bathroom, 99m2 of floor space and was built 11 years prior to the date of analysis.
Because it is an existing property, an investor would need a $142.5K deposit to make that purchase.
Compare that with the properties on Ruskin St, which were 3 bedrooms, 2 bathrooms and 117m2 of floor area. Because they were new they would only require a $99,800 deposit.
The properties we analysed were similarly priced to other houses selling in the area, but much better value.
That's why when you are looking at property deals and weighing up whether you should invest or not you should look at similar properties that have sold in the suburb in the same property market. This will allow you to assess whether you are getting a good deal.