Introduction
Who Are The Top Mortgage Brokers In New Zealand?
Should I use a mortgage broker? And if I do use one, which one should I use?
These are questions we often hear at Opes Partners, which is why this article will break down our picks for the top 10 mortgage brokers in the country.

The investors we work with generally use mortgage brokers, which has allowed us to meet brokers who provide outstanding service … and we've met a few brokers who don't.
That's why we've created this list to share the mortgage brokers who we feel give fantastic service, and then to explain what makes each of them unique.

Even though we have our own mortgage brokerage in-house – Catalyst Financial, who work with most of our investors. We've chosen not to include them on our list below because otherwise you'd think we're biased 😅


Even though we think our brokers at Catalyst are pretty good, hopefully, this list will help you find the right mortgage broker that's best for you.
What Do They Do?
What Does A Mortgage Broker Do?
A mortgage broker is your link to the bank. They are the person who is going to take all of your documents (e.g. your pay slips, bank statements) and present your mortgage application in the best possible light to give you the greatest chance of obtaining a loan.
Could you submit your application to the bank yourself? Sure, you could.
But often you might be able to borrow more if you use a mortgage broker. Why?
Because a mortgage broker will pick up any holes in your application before it gets sent off to the bank. They also might be able to offer a few insider secrets for you to capitalise on or take advantage of.

For instance, a mortgage broker might take one look at your application and ...
Potentially extend your mortgage terms, so that your committed expenses are lower
Consolidate debt, again to reduce committed payments so you can borrow more
Cancel your unused credit cards, so banks are more likely to lend
Review your bank accounts to make sure you aren't missing automatic payments or going into unarranged overdraft. If that's happening they can get ahead of this and explain it to the bank.
All of these tactics require an experienced eye to figure out whether they will actually make a difference to your mortgage application and ability to get credit.
In addition, when applying for a mortgage, speed is of the essence. Often first-time mortgage applicants will send in incomplete details. This means time wasted going backwards and forwards to the bank.

Sounds simple, but it often happens. This can mean missing out on a property if you don't get your finance approved on time.
A mortgage broker pre-empts this by requiring all your documents up front. For instance, they'll often require:
3 months' worth of payslips
3 months' worth of bank statements
6 months' worth of credit card statements (for each credit card)
A copy of your passport
Rough budget of what you spend each month
Full assessment of who you are, what you do, and what you own, how many kids you have, are you self-employed, and do you have personal loans?
Collecting this all up front means the bank can make their assessment earlier in the process – rather than having to chase you up later on.
A broker will also be able to help you make decisions on how to structure your mortgage (e.g. how long to fix your loan for, and whether you should use an interest-only mortgage).
Worth It?
Is It Worth Using A Mortgage Broker?
Yes. Provided, of course, you have a good one.
Why do we say this?

Well, for starters they are often free for the borrower to use, so you pay nothing for the expertise. They get paid a commission by the banks once you take out a loan.
They'll also have expertise and knowledge of complex banking policies that can make the difference in getting your mortgage approved.
This sort of knowledge you can't really Google.

For example, every bank has different lending policies and criteria. It's completely normal for one bank to approve your lending, while another will not.
ANZ will not take into account income earned from overtime, but Westpac will. So nurses applying for a mortgage are generally more suited to Westpac.
That's not to say that every nurse needs to work with Westpac, but it is worth accessing this kind of insider knowledge through a mortgage broker.
If your application is tight, and you're on the cusp of being approved or rejected, then a broker may be able to rejig your application to give it a better shot.
Squirrel Mortgages
Squirrel Mortgages
Squirrel mortgages are predominantly based in Auckland. They've got about 28 mortgage brokers on staff … and we really do mean 'on staff'.
That's because Squirrel is the only firm where its mortgage brokers are paid a salary. Most mortgage brokers are primarily paid on commission.
This means Squirrel brokers don't have a financial incentive to keep writing more mortgages.
John Bolton, founder and Chief Executive of Squirrel, made the decision to structure Squirrel this way because he feels his mortgage brokers will offer better advice.
Of course, that doesn't mean that other mortgage brokers on this list don't offer good advice … far from it. But, if you're the sort of person who wants to deal with a larger company, and is worried about impartiality of advice, Squirrel may be the right fit for you.

One Rockstar broker we've worked with at Squirrel is Marilize Visser. We've worked with her many times and believe in the advice she offers to clients. And it's no surprise that when you go on Squirrel's Facebook page, many of the reviews specifically mention Marilize.
Lastly, it's worth mentioning that Squirrel has 5 Chinese speaking brokers and 4 Indian speaking brokers. This makes Squirrel an attractive choice for the diverse communities of Auckland who may be more comfortable conversing in their first language.
Tony Mounce
Tony Mounce – Tony Mounce Mortgages and Insurance
Tony Mounce Mortgages is the largest mortgage broking firm in Christchurch and the wider Canterbury area.

The company was founded and is still lead by Tony Mounce, who reigns as the top mortgage broker in the country, according to NZ broker.
Because he spent so much time working for the BNZ, he often knows bank lending policies better than their own staff. He uses that understanding to get mortgages approved and fight on behalf of his clients to get the best result.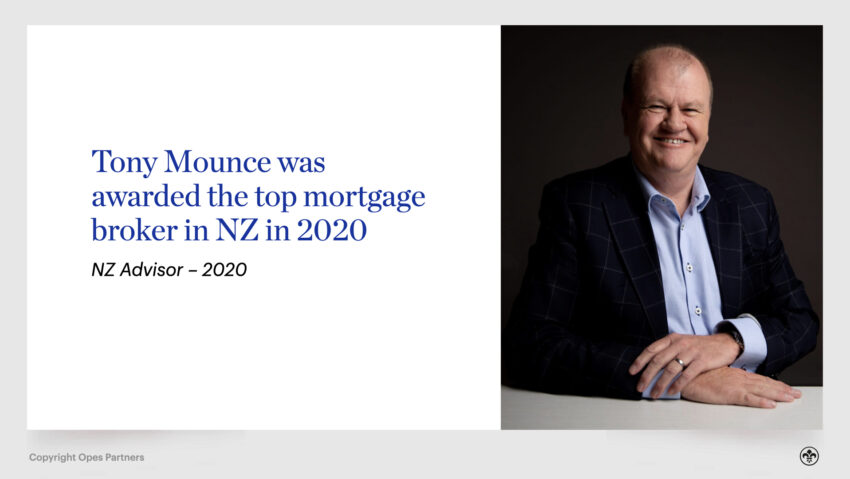 If you choose to work with Tony, you will find him fast, efficient and extremely friendly. If you are looking to get the money you need to buy a house and want to get it done, Tony will be an excellent fit for you.
But, you also should be aware that because lots of people want to work with Tony, he is busy. He's not the sort of broker who will sit down with you over lunch to explain the basics of how a mortgage works.
If that's the sort of hands-on advice you are looking for, then it may pay to work with a member of his team or another broker on this list.
Roost
Mark Pullar & Toby Stanley – Roost
Roost is the only mortgage brokers on this list that specialises in the Queenstown and Otago markets.
Located in Arrowtown, the business is one of the largest mortgage brokers in the Queenstown Lakes District.
Both directors of the company, Mark Pullar and Toby Stanley, feature on NZ broker's online list of the top 30 mortgage brokers in NZ by the total value of mortgages written.

Josh Graham, the final mortgage broker that completes the core team of three, was featured as one of NZ broker's top 15 young guns for 2020.
If you're looking for expertise directly related to Queenstown or the lower South Island, or looking for classic Southern charm, the team at Roost may be the right fit for you.

Futurebound
Jeff Elias – Futurebound
Husband and wife team Jeff and Jacque Elias founded Futurebound in 2017.
It's a Wellington-based boutique mortgage company, with one other mortgage broker on the team, in addition to Jeff.
Jeff has created a 9-step Leaps and Bounds programme, which provides financial coaching depending on where you are in your life. You pay to join this programme and access the more tailored advice it offers.
In addition to the paid programme, Jeff and the team at Futurebound are setting themselves apart by creating and releasing content on their website to educate Kiwis about mortgages and money problems.
If you are solely looking for an broker who will get the lending at a low rate, then Futurebound may not be right for you.
On the other hand, if you want an broker to guide you on all money matters, and want a long-term relationship, Jeff and the Futurebound team may be the right fit.
Maria Thackwell
Maria Thackwell – The Maria Thackwell Mortgage Company
Maria Thackwell rose to become one of Westpac's top mobile mortgage managers in Christchurch before striking out on her own to form the Maria Thackwell Mortgage Company.
Having worked with Maria, we know she is an extremely hard worker and a great educator.
That makes her an especially good fit for first home buyers who want to feel comfortable when getting their first mortgage and want someone to explain the process to them.
MTMC is a small, tight-knit team of 3. That means you can expect your dealings with Maria or her colleague Graeme to be personable and focused on your broader financial goals.
NZHL
NZ Home Loans
NZ Home Loans are one of the largest brokers on this list, with over 70 franchises across the country.
That scale means their processes are down packed, and they have a reputable brand.
NZHL is unique in that its primary focus is to help Kiwis pay off their mortgages more quickly.
They have built their own software, DebtNav, which links into your bank account to show you how quickly your mortgage is shrinking.

If you're the sort of person who is looking for a mortgage broker to help you pay off your home loan more quickly, NZHL will likely be an excellent fit.
We've had good experiences working with Kerry Augustine in Ponsonby (Auckland Metro), John McKee from Mandeville St (Christchurch), Emm McCartney from Canterbury Metro (Christchurch), Ben King from Timaru, and many other top performers from the company.
You do need to know that NZ Home Loans are wholly-owned by Kiwibank. That means there are only so many lenders NZHL brokers can help.

If you're looking for a mortgage broker who will play hardball with banks to get the interest rate down, or you're a property investor who wants to split bank, NZ Home Loans may not be the right fit.
But if you are looking to pay down debt more quickly, and get access to software to help you track that, NZHL may be the right fit.
Loan Market
Loan Market
Loan Market is another of the largest mortgage broking businesses in the country, with over 120 brokers.
They have an incredible team, with 13 brokers making NZ broker's list of the top 30 mortgage brokers in the country by value of mortgages written.
Some of the team we have worked with include Cameron Marcroft in Remuera, Megin Wilton in Howick, and Bruce Patten from Greenlane.

An important difference between Loan Market and NZ Home Loans, the other large mortgage business mentioned above, is that Loan Market is not owned by a bank.
So, Loan Market brokers (like the smaller companies mentioned on this list) have access to over 20 different lenders you can potentially borrow from. That means you can use a split banking strategy.
That makes Loan Market a great fit if you want to deal with a reputable brand and plan to buy multiple properties.
Vantage NZ
Andre Hutley From Vantage NZ
Andre Hutley, of Vantage NZ, is a mortgage broker, and a property investor himself. Vantage has a team of six based in central Wellington.
When speaking about Andre, Opes Partners Managing Director Andrew Nicol says: "I know that he goes above and beyond. He's been in the industry for so long, he gets a yes out of the banks, when others might get a no."
If you're based in Wellington and want to meet in person with your broker, then Andre may be the right fit for you.
Twine Financial Brokers
Eugene Bartsaikin – Twine Financial Brokers
Next on this list is Eugene Bartsaikin, of Twine Financial Brokers.
Having worked with Eugene to help several investors, we've been impressed by his ability to explain why he's doing what he's doing.
For instance, Eugene prepares a mortgage strategy proposal for every client, free of charge. This document details the unique challenges the investor faces, the top 2-3 lenders he has considered, and finally the top lender he thinks he should approach first.
This transparent and thoughtfully-explained approach helps investors to fully grasp what's going on as they seek lending from different banks.
The Twine team is based on the North Shore in Auckland, but like other brokers in this list work with borrowers remotely, wherever they are in New Zealand.
If you're an analytical type, who wants to understand why your broker is making certain decisions, then Twine Financial brokers may be the right fit.
Kris Pedersen
Kris Pedersen Mortgages
The last broker on our list is Kris Pedersen from Kris Pedersen Mortgages. Kris is an active member of the property investment community. His brokerage is the principal sponsor of the Auckland Property Investors Association and his company writes for the Property Investor magazine.
The company specialises in property investment and are associated with other businesses that focus on an active renovations strategy.
Kris is an active property investor himself and also owns Pedersens Property Management. This gives us the confidence that he really understands property investment, so can give well-rounded advice for investors who are just starting out, or who are looking to expand further.
Which Should I Use?
Which Mortgage broker Is The Best?
From reading this, you should take away that each mortgage broker is slightly different. And those differences range from their personalities to their services, to what they tend to focus on.
The purpose of this list isn't to tell you which of these brokers is 'the best', but rather to help you find the best mortgage broker for you, depending on what you're looking for.
Pick 2 or 3 from this list that sound good, check them out online, then give one of them a call.
You're going to be sharing a lot of your financial information with these brokers. So, you'll want to make sure there's enough of a connection there so that you feel comfortable discussing your money-life with them.
And remember, if you haven't found the right mortgage broker from this list, you might like to check out Catalyst Financial. Catalyst is our in-house mortgage brokerage who work alongside here at Opes Partners every single day.
Process
What's The Process Of Working With A Mortgage Broker?
After you've found a mortgage broker you think you want to work with, what are the next steps.
#1 Initial Conversation
Usually, your mortgage broker will conduct an initial assessment of you via a Zoom meeting or a telephone call on first contact.
It's a bit like a meet and greet, except you will be telling them all about the type of property you want to buy and how much money you have.
In some instances, the mortgage broker will be able to give you a "ballpark" on what the bank is likely to lend you given your current situation. If anything this is just to give you an idea from the outset.

#2 Get Your Documents Together
The next step is to hand over all documents the bank requires.
This can be laborious. Most of the time this will be done online, sometimes through a portal.
As we've listed earlier, a mortgage application requires:
3 months' worth of payslips
3 months' worth of bank statements
6 months' worth of credit card statements (for each credit card)
Copy of your passport
Rough budget of what you spend each month
Full assessment of who you are, what you do, and what you own, how many kids you have, are you self-employed, and do you have personal loans?
(Positively, there is a new application that allows complete and immediate access to your bank account and takes a few seconds to make a username – should you feel comfortable doing so).
#3 Approaching the banks
Armed with all of this information, the mortgage broker can now run your numbers properly through bank servicing spreadsheets to decide where you're most likely to get lending approved.
This is entirely situation-dependent, and the mortgage will often make the call.
For instance, if one partner is pregnant, then BNZ often has more lenient policies. They'll often factor in income, if that partner is about to go back to work, whereas other banks won't.

In this case, BNZ will sometimes accept a letter from your employer stating that by the time the loan is approved you'll be back at work at your normal salary (or whatever it happens to be).
So, if you've recently had a bundle of joy come into your life, your broker may decide this is the best bank to approach first.
#4 Getting An Answer Back
The mortgage broker will be your go-between and advocate between you and the bank. If there are any additional questions, or pushback, they will push your case on your behalf.
After they get a decision they will come back to you with the final answer, called an approval.
If you already have a property, the bank will give you an approval. But if you don't already have a property they'll give you a pre-approval.
Pros And Cons
Mortgage Broker Pros and Cons
Cost
How Much Do Mortgage Brokers Cost?
For you, mortgage brokers are often free to use. Generally, they get paid by the bank.
You are probably wondering: how much does a mortgage broker earn?
Upfront commissions on mortgages can be up to 0.85% –sometimes more – of the loan value. On a $500,000 mortgage, that's $4,250.

You might think "gosh that's a lot of money" – but just remember:
Banks tend to save money when using mortgage brokers, since they don't have to service the client as much
The commission isn't added on to your loan or interest rate, so it is genuinely paid by the bank
If the broker is employed by a business, they don't get to keep it all – so they won't always be shouting the drinks … just in case you have any mortgage broker friends!
And also remember – the reason mortgage brokers can earn a solid income is because they provide a professional service.
Although you may not be paying them directly, they are working for you and on your behalf. So you should expect to receive a professional service.
They're not doing you any special favours just because they don't charge.

On the odd occasion, some mortgage brokers will charge you fees, but most are free.
One extra thing to note is sometimes a bank will approve lending dependent on a registered valuation on the property.
A mortgage broker will usually pick this up before sending your documents off and will give you a heads up. For instance, if there is an "as is" clause in your property documents.
A valuation typically costs $700-$800 and is organised through the bank.
If this is the case, your mortgage broker will send you a link to the bank's system.
Just the same as any other transaction, simply put in your credit/debit card details to pay the fee.
Make sure you keep a receipt because the costs are tax deductible once your property starts earning rent.
Bank Or Broker?
Mortgage Broker vs Bank, What's Better?
At this point, some investors may be thinking: would it not be easier to cut out the middle man and go straight to the bank?
Our answer is often "no".

The reason we like mortgage brokers is that there is often a better level of advice given.
However, if you have a business you may already have a personal banker or someone in the commercial team at the bank that you work with.
Business owners often have more complex situations and so working with the same banker you use day-to-day can be beneficial.
If your situation is more simple – you earn a salary or wage – we usually recommend going down the broker route.
Recommendations
How Do I Find a Good Mortgage Broker?
Often the best way to find a good broker is to get a recommendation and then talk to a few.
You've got our top 10 above, but then if you interview 2-3 you probably need to figure out which one to use.

Of course you can get a gut feel to see who you click with … but that doesn't necessarily mean the person you 'click with' will do the best job.
So, here are a few questions you might want to ask your potential mortgage broker to get a feel for if they are the right fit for you:
Do you work with all banks, or just a few?
What's the best type of mortgage for me?
What are some of the ways I can get my lending up?
How should I structure my lending to reach my goals e.g. pay off debt more quickly, or expand a property portfolio?
Conclusion
Final Thoughts...
There are very few 'no-brainers' in buying property … but for us, using a mortgage broker is one of them for most people.
Not only is your lending more likely to be approved, since you've prepped the mortgage application properly, but the service is often offered at no cost. And the broker will take on the donkey work of getting your mortgage application pushed through.
For lazy people – like the writer of this article – passing the legwork off to someone else is reason enough to use a broker.
Who are Opes Partners?
Who are Opes Partners and can they help me?
What is the 3-Step Opes Coaching Programme?
1. Plan out your property investment portfolio
The first step in the programme is to co-create a plan using our MyWealth Plan software. We built this software specifically to help Kiwis create a financial plan in under an hour.

You'll leave this 1-hour session with a written down plan. Pen to paper.


2. Pick properties that fit with your plan

Once you've created your plan in step #1 – your property partner will go out and find properties that fit your plan. They'll search through projects from up to 58 developers to find the best ones for you.
When you meet again, you'll review the top picks, go through the analysis, crunch the numbers together, and then decide which ones to hold with the developer.
3. Dig into the details – Confirm it's the right property for you
Once you've selected a property, you'll work for 10 days to make sure it's the right property for you. So you'll work with your Property Partner and Client Relationship Manager to dig into the details of the property.
You'll go and look at the development and be introduced to mortgage brokers, solicitors, accountants, and property managers. Their sole job is to help you figure out if this property works for you.

And you'll have access to all the resources, tools, and data … so when confirmation day comes, you have confidence you know you're making the right decision.
Who is the Opes Coaching Progamme the right fit for?
You understand the concept of property investment, but who wants help putting it into practice.
You want a "Done for you" property investment service, so you can be a hands-off investor.
You are someone who has at least a 10 year investment time horizon.
And finally, you're ready to become a property investor.
Who is the Opes Coaching Progamme is NOT the right fit for?
You're more into the smell of paint or the colour of a wall than the numbers that stand behind an investment property.
You only want investments that are hands-on, so you can save a few dollars here and there.
You have plenty of time on your hands and want to do the property investment process yourselves.
You're looking for an overnight success and want to get rich quickly.
What does it cost to work with Opes Partners and go through the programme?
It's free. Complimentary. No Cost.
Why?
The developer pays us a marketing fee when you confirm that the property is the right fit for you. Very similar to the way a mortgage broker gets paid by the bank.

Now it's important to note that we are paid the same fixed rate no matter what property you invest in.
If it's a $500k apartment in Christchurch or a $1.3 mil 3-bedroom townhouse in Ponsonby – we get paid the same rate.
That's important because then we can recommend the right property for you, and there's no incentive to recommend you invest in a more expensive property, just so we get paid more.
I want learn more about how Opes can help me