Mortgage repayment calculator: What your repayments on your mortgage could be
Mortgage calculator and loan repayment calculator
A mortgage is the most significant expense in any investment property.
Many investors will use an interest-only mortgage (which does what it says on the tin). If this is you, head over to our interest-only mortgage calculator. 
Other investors use a standard principal and interest mortgage. If that's you, the above calculator's for that.
This tool gives you an idea of what your repayments on your mortgage could be.
In the below guide, you'll learn how to use the mortgage calculator, including what all the terms mean.
And if you have a question, write your questions or thoughts in the comments section below.
What term should I use in the mortgage calculator?
The term of your mortgage is the number of years you'll take to pay off your mortgage. This is also called the mortgage term.
In New Zealand, the maximum term most banks lend for is 30 years. So, if you are applying for a mortgage for the first time, using a 30-year term is a good start.
The shorter the mortgage term, the higher your repayments will be.
The longer your mortgage term, the smaller your repayments will be.
However, you also have to think about how much interest you'll pay.
For example, if you pay off your mortgage really quickly, your repayments will be high. That's because you'll pay off your mortgage faster.
In doing so you'll pay less interest to the bank over the life of your loan. It's short-term pay (a higher repayment) for long-term gain (paying less interest).
The reverse is also true. If you pay the bank back more slowly your repayments will be lower. But, you'll end up paying more interest to the bank over the life of the loan.
That's short-term gain for longer term pain.
Should I pay weekly, fortnightly or monthly?
Some people think that paying weekly or fortnightly saves on interest costs.
This isn't true. The difference is insignificant.
Why do people think this?
Some people think your fortnightly mortgage payment will be half the monthly payment.
This is because there are 26 fortnights in a year, and 12 months.
Some people think they make an extra 2 repayments per year if mortgages are paid fortnightly.
It doesn't work like this in real life. Because if you go to the bank and ask to pay your loan fortnightly, they don't half your monthly repayment. They'll cut it by more than half.
That's because there is an average of 4.33 weeks in a month, not 4.
Think about it another way – people who get paid monthly don't get paid less than people paid fortnightly.
So setting the frequency of your mortgage repayment often depends on convenience.
If you get paid weekly, then making weekly mortgage payments makes sense. 
If you get paid monthly, it makes sense to pay the mortgage every month.
To be clear, making extra repayments against your mortgage will pay it down faster. But, solely switching to a monthly or fortnightly repayment? That makes very little difference.
How much deposit do I need?
The deposit you need to get a mortgage isn't the same for all borrowers.
Some Kiwis can now get mortgages with just a 5% deposit; others will need 35% or higher.
The Loan to Value Ratio restrictions were introduced by the Reserve Bank in 2013.
This regulates how much a bank can lend against a property.
Here are the current LVR restrictions:
Owner-occupiers and investors need a 20% deposit to buy a New Build property
Owner-occupiers need a 20% deposit to buy an existing property
Property investors need a 35% deposit when purchasing an existing property
It's important to note not all lending needs to come under these restrictions.
The banks still have the discretion to lend money to some borrowers with lower deposits.
And it's worth noting that banks are often a bit stricter with investors than owner-occupiers.
So, if you are a first home buyer you may be able to use a 10% or even a 5% deposit. Just bear in mind that you'll also likely pay a higher interest rate (more on this below).
If you've already owned your own home in the past and are looking for your next home you'll need at least a 20% deposit (most of the time).
But, if you're an investor you'll need at least a 20% deposit if investing in a New Build. Or you'll need 35% if it's for an existing investment property.
How much can I borrow?
You might have used the mortgage calculator above and thought: "Yup, I can afford that".
But, the thing is the bank might not agree with you.
Why's that? If you can afford the repayments, surely a bank will lend you the money?
The thing is banks are careful when lending lots of money to people. They want to make sure you can afford to pay it back.
So when they look at your application they will:
Test your application to see if you could afford the mortgage at a much higher interest rate
Make sure you have enough to deposit
One trick to see if you have enough income to get a mortgage is to increase the interest rate. If the banks are currently offering 7%, make the calculator 9%.
That will give you an idea of how much the bank will test to see if you can afford it.
What sort of mortgage is this calculator for?
The three types of mortgage:
Table Mortgage (standard principal and interest mortgage)
Interest-Only Mortgages
Revolving Credits
Check out our Epic Guide to Mortgages to dive into the ins and outs of each of these types.
This mortgage calculator is for table mortgages. This is the principal-and-interest loan that most homeowners go for.
You can apply for lending through either a main bank (e.g. ASB, Westpac etc.), or a non-bank (e.g. Resimac, Avanti or others).
What is LMI?
In our calculator, you can see a tick box for Lender's Mortgage Insurance (LMI).
This is the bank's insurance policy against you in case you can't keep up with the mortgage repayments.
LMI insurance is compulsory for people who take out mortgages with a low deposit. This means owner-occupiers with a deposit of less than 20%.
The bigger your deposit, the less you have to pay for your LMI insurance.
So, if you have a 15% deposit, you'll be charged less than if you only had 5%.
What are your next steps?
OK, you've used the mortgage calculator and are comfortable with your repayments. How do you go about actually getting a mortgage?
Your next step is to use a mortgage broker to negotiate with different banks to secure your mortgage.
Sure, you can approach banks directly and negotiate yourself, but there are a whole heap of benefits to using a mortgage broker.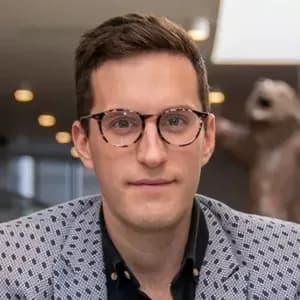 Ed McKnight
Our Resident Economist, with a GradDipEcon and over five years at Opes Partners, is a trusted contributor to NZ Property Investor, Informed Investor, Stuff, Business Desk, and OneRoof.
Ed, our Resident Economist, is equipped with a GradDipEcon, a GradCertStratMgmt, BMus, and over five years of experience as Opes Partners' economist. His expertise in economics has led him to contribute articles to reputable publications like NZ Property Investor, Informed Investor, OneRoof, Stuff, and Business Desk. You might have also seen him share his insights on television programs such as The Project and Breakfast.