Introduction
The BRRRR (Buy, Renovate, Rent, Refinance, Repeat) strategy is the playbook for renovations-based investors.
The process, quite literally, builds equity and value into a property through renovation improvement.
So, unlike a passive buy-and-hold investor who waits for organic market growth over a long time period, the investor manufactures higher rental return and equity in a much shorter span - a matter of months or weeks. Sounds ideal, right?
Yes, the BRRRR strategy offers big rewards in exchange for a relatively short amount of time, but it's more costly, requires a load of labour, and the risks can be higher when there is more money at stake.
In this article, we outline what a BRRRR strategy is, how much it costs, and what type of investor it is best suited to.

BRRRR Explained
What Is The BRRRR Strategy?
BRRRR is an acronym for an active, renovations strategy. Broken down, the letters stand for: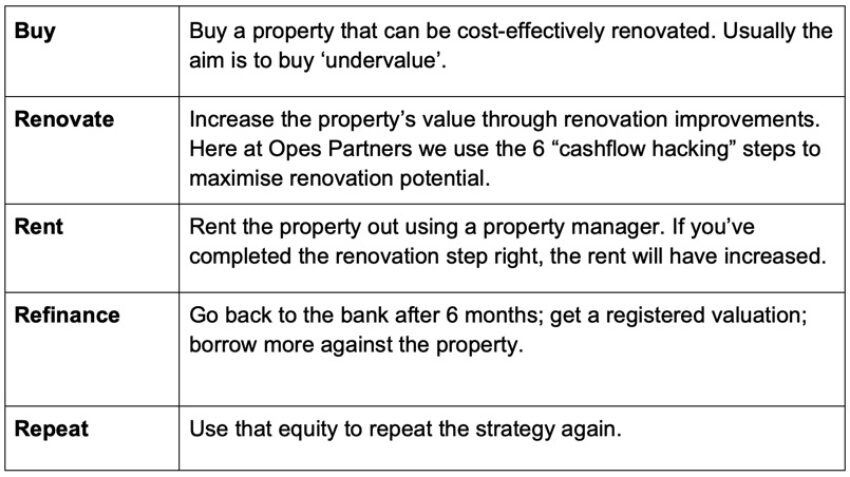 Results
What Are The Results Of The BRRRR Strategy?
A successful BRRRR strategy should mean you'll immediately increase the value of your property in a very short space of time, which in turn increases the equity and rental returns.
Ideally, for every dollar you target or put into your renovation, you want to see about $2.50 to $3.50 back.
When we've shared these figures in the past, some homeowners have scoffed. "How can you increase the property's value by that much?"
The key is to target your spending only on the areas that will substantially increase the property's value and rental return. Anything else should be left the same.
A good way to approach this is to consider who will be the tenant, post-renovation, what features they will find attractive, and also the same is true for the registered valuer who will assess market comparisons when it comes to the refinance.
What You Need
What Do I Need To Do The BRRRR Strategy
To execute a BRRRR strategy successfully you need two things: Money and people.
Let's talk about money first.
Because before you even think about planning a renovation - you need to have a property.
Financially speaking, you can finance your investment by leveraging the equity of your own home, or using cash in the bank (if you have it).
Usually, properties most suited to the BRRRR strategy are existing homes. Ideally, the property will be under market value or at a wholesale price, and is able to be cost-effectively renovated to rapidly improve the overall value.
This last point is important, because not all good homes are good investments for this strategy. Choose wisely.
The current minimum deposit for an investor purchasing an existing home is set at 40%.
On top of this you need to have the extra capital to fund and execute your renovation plan.
A good rule of thumb for a typical 1970s home that is around 90sqm will require around $50k renovation budget if a full cosmetic renovation is to be completed.
It is likely your renovations budget will need to include paying for professionals to help you complete the work.
So, if you aren't going in all guns blazing doing everything yourself, you need to have a core team of people helping you.

This usually includes: a licensed builder, electrician, plumber, gib stopper, plasterer, painter and kitchen manufacturer.
You will also need a property manager so they can appraise the final rent for you and find suitable tenants.

DIY?
Do I Have to Do The Renovations Myself?
There is a sliding scale of how involved you can be in your renovations.
Contrary to popular belief, renovation-based investors do not always have to be closet painters and electricians in their spare time.
You are able to choose the level of involvement you have. But the less involved you are, the more money you must spend, which can mean lower returns on the other side.
But paying the professionals will almost certainly result in a high quality, and faster, end result.
So, on one side of the scale, you can be totally involved in your project. This means doing all the "sweat equity" yourself, like painting, bashing down walls, wiring - the works.
In the middle of the scale you can manage a team of professional people, who get "sweaty" for you.
And entirely the other end, you can outsource the whole project to someone else to manage and oversee. This should be at a fixed price to manage your financial risk.
While BRRRR is an active strategy, there is a bit of a misconception that renovations-based investing equals being on-site every hour of the day.
For example, investors who work with Opes Accelerate often renovate properties across town or completely remotely, across New Zealand. So, in this instance, it makes more sense to hire someone to project manage for you.
But if you would like to learn the process of renovations you can choose to project manage a team of people through the renovation.

Costs
How Much Does It Cost To Do The BRRRR Strategy?
As a general rule, your renovations budget should be capped at 10% of the property's purchase price.
For example, say you buy a property worth $600,000 (with a deposit of $240,000) the budget for renovating should be sitting at or below the $60,000 region.
This covers: the holding cost for the mortgage, cosmetic renovations, converting under-utilised space into an additional bedroom, and the professionals required to do the work (if you aren't doing it yourself).

So, for instance, let's say you want to purchase a $500,000 property (cheap by New Zealand standards). You're going to need $200,000 of useable equity or cash to purchase the property.
On top of this you might budget for $50k worth of renovations (10% of the purchase price). That means you'll need $250k in total.

That means you'll need about 50% of the property's purchase price in equity to run the BRRRR strategy (40% for a deposit, 10% for renovations).
You can use our equity calculator to find out how much you could potentially borrow against your home to fund this.

The exception to the 10% budget rule might be if you were an experienced investor who can spot a way to add a lot of value to a property.
In this instance, you might have the experience and capital to be comfortable spending beyond the 10% because you know the resulting equity will be worth the risk and input.
To give an example, let's say you find an existing property you know you could transform into two separate dwellings.
You know the end result will result in higher capital gains; you'll have factored in there will be a premium for a lower amount of bedrooms (less than 3); and because it slides into the definition of a new-build it will be exempt from the new tax deductibility laws.
All things considered, you weigh the risks and spend the extra cash.
But this is very much the exception to the rule. We include it to point out there are other possibilities and outcomes when you choose this strategy.
Hidden Costs
What Hidden Costs Might There Be In a BRRRR Strategy?
It is important to note that while you're renovating the property – you're not going to have a tenant.
End to end, you should comfortably allow 5 months as a timeline from when you buy a property to when you refinance it.
That means assume no rent coming in over those 5 months.
You'll also need to factor in time to find new tenants, because:
Under the current tenancy law you must give existing tenants a minimum of 90 days' notice for renovations, so they can find another place to live. After 5 months, they've probably settled into their new home and they may not be in the headspace to move back.
But, because your renovations are likely to (well you certainly really hope they will) result in an increased rent, it means your property may no longer be in their budget range and therefore suit a different tenant or tenant make-up.
In my experience this happens 9 times out of 10, which means you might find yourself looking for new tenants after all the tradies are sent home.
Right Fit
Who Is The BRRRR Strategy Right For?
This strategy suits investors who are looking to accelerate their wealth or passive income goals by manufacturing equity within a relatively short time frame, rather than waiting for organic market growth.
These types of investors have big goals and want to acquire properties quickly - rinsing and repeating the strategy often.
By doing so the average cost of each property is lower, which means they have a longer investment lifetime to reap the capital gains.
While it isn't mandatory, usually investors who choose this strategy will want to be actively involved in the early stages.
Therefore, it is very well suited to those investors who want to make this their whole game and money maker, and who want to step away from the daily 9-to-5 grind.
Say, for instance, you were a business owner or committed to climbing the career ladder, you would more likely want to have a passive "hands off" investment.
In this instance, the BRRRR strategy would not always be the right fit. Unless, of course, you had the capital to be comfortable outsourcing the project.
Example
What Is An Example Of The BRRRR Strategy
Recently, one Auckland property owner was able to use the BRRRR strategy to successfully transform her negatively-geared property into a great investment. In her words, it was a "failing investment."
The renovations plan was to:
Reshuffle the floor plan to include another bedroom
Change the fittings (taps, switches, light shades, door handles etc.)
Refurbish the kitchen and bathroom.
Remove the carpet to reveal the solid wooden floors hiding beneath and
Install roller doors to convert a downstairs storage areas into a double garage.
It took seven weeks and cost $90,000.
The result was a rent jump from $420 to $740 a week and the owner is able to bank $14,000 every year as a passive income.
Not only that, she leveraged off the equity to buy her next property.
Conculsion
Final Thoughts ...
Yes, a BRRRR strategy is an excellent strategy for building wealth quickly.
And while this may be greatly appealing to the impatient person living in all of us - this strategy is by no means "quick and easy".
It requires a lot of finance, skill, and experience to do well.
For those of you who want a more passive investment, then the Buy-and-Hold strategy may be the right fit for you.
But if you're ready to dive head first into renovations the rewards are certainly there.