Introduction
Chatter about debt-to-income ratios has surged recently following the BNZ's decision to implement its own.
Many investors may worry how this will affect not only their future lending but servicing the current amount of debt they have now.
Common questions are: How will this affect my portfolio? Is this the new normal? Are all banks going to follow suit? Does this mean I can't grow my portfolio further?
All concerns regarding DTIs are valid, but it's important to note this is a bank move, not a Reserve Bank decision, and it is not going to affect everyone the same way.
So, in this article we are going to talk about what DTIs are, why some banks are choosing to implement them and what the future may look like for a DTI-influenced investment market.
DTIs Explained
What Is a Debt-to-Income Ratio?
To begin, Debt-To-Income ratios (DTIs) are a simple way to cap the amount of money you can borrow, using your current annual income as a baseline.
For example, BNZ has implemented a DTI of 6x annual income.

So, if your household earns a combined income of $150,000, multiply that by 6, and that is the maximum amount you can borrow from BNZ.
DTIs are a blunt instrument, and they're being introduced by some banks in order to make sure investors and home buyers don't take on too much debt.
Calculating DTIs
How Is A Debt-To-Income Ratio Calculated For Investors?
For investors, the calculation gets a bit harder. That's because you also include a percentage of the rent your investment properties earn.
This dual figure will then be subject to the DTI amount.
For example, the bank will calculate your household income by taking the annual income salary, adding it together with 80% of your rent, and then multiplying that figure by 6.

Each bank will scale back the rent differently. So some banks will use 80%, some will use 70%, and others might use 75%.

Let's go through a couple of examples, just to really wrap our heads around it.
Scenario #1
Case Study #1 – Owner Occupier
Here is an example to illustrate how DTIs are calculated in the real world.

Let's say you are an owner-occupier and you and your husband both earn $75,000 each.
That's a combined income of $150,000 for your household.
The maximum borrowing you can get from BNZ is now set at 6x your household income.
So: 6 x $150,000 = $900,000.

Now, let's say you have a 10% deposit.
So, the maximum purchase price is $1 million – that's broken down into $900,000 of lending and $100,000 in cash deposit.
Scenario #2
Case Study #2 – Property Investor
Let's take the example of another couple, who have exactly the same household income – $150,000.
This couple have owned their property for a while and have paid down the mortgage to $300,000.
If we multiply their income by 6 (the DTI), the maximum they can borrow is $900,000. Because they already have a mortgage, that suggests they could borrow an extra $600,000.

But we also need to factor in rental income. So assuming they can purchase a property with a 4% gross yield, and 80% of that income is included in the bank's tests, they could borrow a maximum of about $744,000 (based on 100% lending).
That's because a $744,000 property would earn almost $24,000 in rent that would count towards the DTI calculation.
So the calculation goes – $150,000 (their income) + $24,000 (applicable rental income) x 6.
That equals about $1,044,000. But then we subtract their current mortgage of $300,000, and that gives us the $744,000 they can borrow for an investment property.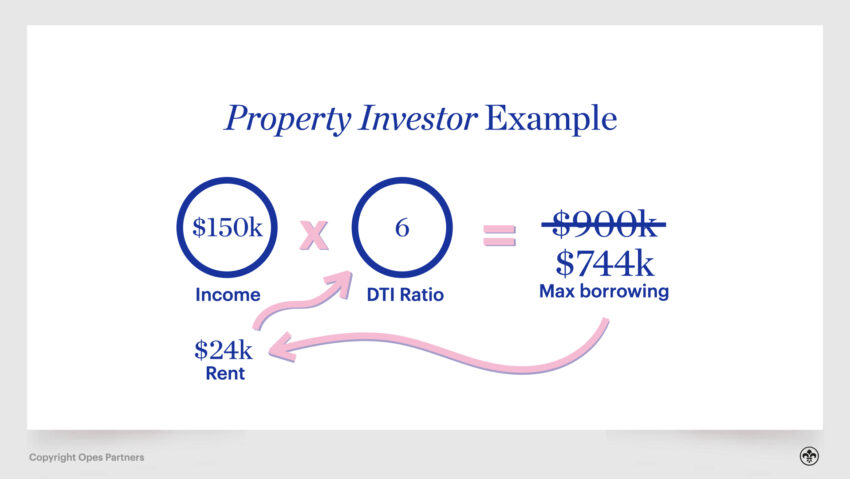 Should I Be Worried?
Give It To Me Straight - How Much Do I Need To Worry About DTIs As An Investor?
If you are a BNZ customer and you want to get new lending the new DTIs will apply to any new application. This includes if you want to renew your interest-only loan.
But the bank is only applying the DTIs if you come through a mortgage broker.
For some investors, the new restrictions will mean they won't be able to afford the debt they currently have.
And it could also mean the bank will decline your application to renew your interest-only lending, which will mean it will roll over to a principal+interest loan.
And yes, if all the other banks follow suit it could make it more difficult for an investor to build up their portfolio, particularly on growth properties that have a low yield.
But there are a few important things to note about DTIs … because it's not the end of property investment as we know it (at least not just yet).
Currently, only two banks have debt-to-income ratios in place (BNZ and ASB)
DTIs do not affect everyone equally. (More on this below)
The Reserve Bank has not yet, and there are no immediate plans to, make DTIs a blanket policy across all banks, although there is consultation at the end of November 2021
ASB has had debt-to-income ratios in place for over a year already and is still lending. Most investors haven't even noticed this change
There are ways you can get around or avoid them completely. You still have options
Why?
Why Have BNZ and ASB Chosen To Do This?
BNZ has explained its actions by stating it is taking its obligations as a responsible lender seriously.
Up until now BNZ has been the most favourable bank in terms of its lending criteria, with the average approval being about 7.5x the annual income of a borrower.

So, this move is really about rebalancing their lending and reducing risk. They want to ensure they are lending to people who can comfortably afford to service their mortgage.
Now, that's not to say banks are dealing with customers who can't afford existing serviceability - but rather they are pre-empting it and trying to reduce risk.
What Can I Do?
I'm A BNZ Customer And DTIs Worry Me - What Can I Do As An Investor?
Peter Norris, a mortgage adviser from Catalyst Financial, says if you are worried about DTIs affecting your investment portfolio, it's a good idea to assess your situation as soon as possible.
It's a lot more stressful if you leave it too late to find out how DTIs will affect you.
The thing is, not everyone is going to experience DTIs in the same way.
There will be some investors who won't notice as much as others. For example, those with larger portfolios or large personal income. And people who don't bank with BNZ won't actually notice at all.
But there are also other situations where DTIs will have less effect:
Owner-occupiers with low debt
Low LVR borrowers
Investors who own higher-yielding properties
But, at the other end of the scale, it may be more of an issue for other types of borrowers, like emerging investors and first home buyers.

So if you are one of the below it may be a good idea to have a chat with a financial advisor to see what could be the best option for you:
A BNZ customer
Owner-occupiers who have maxed out their borrowing
Investors who own multiple properties with BNZ lending
High LVR borrowers
Thinking Ahead
Is This The New Normal? Are All Banks Going To Start Implementing Debt-To-Income Ratios?
The short answer to this question is maybe. It doesn't appear that every other bank is going to rush in to follow BNZ's lead right now.
But, the Reserve Bank will weigh up whether to implement a blanket rule later in 2021. But we won't know the details of this – and whether any properties, like New Builds, will be exempt – until the central bank makes an announcement.
BNZ and ASB are currently the only two banks that have chosen to do so. They have done so voluntarily at their own discretion.
ANZ, Westpac and Kiwibank have not followed, and none of the smaller banks have either.
So if you are keen to grow a portfolio it may be the right decision to access a range of lenders so you can keep borrowing and purchasing.
This may mean using second-tier/non-bank lenders, as well as the main 5 commercial banks.
Often the best way to plan how to continue growing is to use a mortgage broker who has relationships with these lenders and can formulate a plan to keep growing your investments.

Also, it's important to note that right now DTIs only apply to borrowers coming through a mortgage broker and not would-be purchasers going directly to the bank.
This has caused some heat from mortgage brokers and it remains to be seen how this will play out in the long term.
Conclusion
Final Thoughts …
If you are an investor, get in early and figure out what the impact on your portfolio will be, especially if you are one of the high-risk investors we have listed above.
Getting in early will give you plenty of time to restructure things a bit and best serve you and your portfolio.
There are still banks that don't have a DTI ratio and there is nothing to suggest that will become a future reality.
So yes, DTIs can be daunting for some people, but there are still way to work around it.
Who are Opes Partners?
Who are Opes Partners and can they help me?
What is the 3-Step Opes Coaching Programme?
1. Plan out your property investment portfolio
The first step in the programme is to co-create a plan using our MyWealth Plan software. We built this software specifically to help Kiwis create a financial plan in under an hour.

You'll leave this 1-hour session with a written down plan. Pen to paper.


2. Pick properties that fit with your plan

Once you've created your plan in step #1 – your property partner will go out and find properties that fit your plan. They'll search through projects from up to 58 developers to find the best ones for you.
When you meet again, you'll review the top picks, go through the analysis, crunch the numbers together, and then decide which ones to hold with the developer.
3. Dig into the details – Confirm it's the right property for you
Once you've selected a property, you'll work for 10 days to make sure it's the right property for you. So you'll work with your Property Partner and Client Relationship Manager to dig into the details of the property.
You'll go and look at the development and be introduced to mortgage brokers, solicitors, accountants, and property managers. Their sole job is to help you figure out if this property works for you.

And you'll have access to all the resources, tools, and data … so when confirmation day comes, you have confidence you know you're making the right decision.
Who is the Opes Coaching Progamme the right fit for?
You understand the concept of property investment, but who wants help putting it into practice.
You want a "Done for you" property investment service, so you can be a hands-off investor.
You are someone who has at least a 10 year investment time horizon.
And finally, you're ready to become a property investor.
Who is the Opes Coaching Progamme is NOT the right fit for?
You're more into the smell of paint or the colour of a wall than the numbers that stand behind an investment property.
You only want investments that are hands-on, so you can save a few dollars here and there.
You have plenty of time on your hands and want to do the property investment process yourselves.
You're looking for an overnight success and want to get rich quickly.
What does it cost to work with Opes Partners and go through the programme?
It's free. Complimentary. No Cost.
Why?
The developer pays us a marketing fee when you confirm that the property is the right fit for you. Very similar to the way a mortgage broker gets paid by the bank.

Now it's important to note that we are paid the same fixed rate no matter what property you invest in.
If it's a $500k apartment in Christchurch or a $1.3 mil 3-bedroom townhouse in Ponsonby – we get paid the same rate.
That's important because then we can recommend the right property for you, and there's no incentive to recommend you invest in a more expensive property, just so we get paid more.
I want learn more about how Opes can help me