Introduction
If you've listened to the Property Academy Podcast, watched an Opes webinar, or just heard about Opes in the industry … you might be thinking: "What do these guys actually do."
Great question. In this article, we're going to pull back the covers and tell you exactly what happens when you decide to work with us.
We'll take you through the process of working with Opes Partners, from booking your first Portfolio Planning Session to the settlement of your new property.
Main Service
What Is Opes' Main Service?
Opes' Property coaching programme is our main service and is there to help investors grow a passive, long-term property portfolio.
In simple terms, this means using an expert to help you figure out smart ways to make buying properties make you money. It's an action-orientated game plan, and, most-importantly, it's free.
We've created this programme because – learning about property investment is one thing, but even the most educated investor often wants help wrangling the beast and putting that knowledge into practice.
This programme is achieved through a 3-step process:
Creating a plan (Portfolio Planning Session)
Building a property portfolio (Property Selection Meeting)
Making sure the property is right for you (Due Diligence)
Portfolio Planning Session
Step #1 – Create a plan / Portfolio Planning Session
Every investor begins their journey with Opes with two initial meetings with a 1-hour Portfolio Planning Session.
This is where you sit down with a Property Partner to discuss your current situation and your future financial goals.
You'll then create a wealth plan using our in-house software – MyWealth Plan – and make a strategy for your future portfolio.

The plan gives us a base to work from and it will steer all the advice we give you, and the properties we recommend for you to invest in.
There are two parts to the Portfolio Planning Session.
In the first half, you discuss financial situation, goals, KiwiSaver, income, assets - everything. It gives you, as the investor, a sense of whether you are in a position to invest.
At this point investors go through checklists to confirm the passive buy-and-hold strategy – the strategy we help investors implement at Opes Partners – is the right one for them.
Opes almost exclusively deals in new-builds and off-the-plan developments, which fit a passive strategy. So, if a passive buy-and-hold strategy doesn't sound like it's going to be the best fit for you, then you'll know before diving any further into our planning system.
For example, one investor came to Opes who was keen on new-builds. However, after his Portfolio Planning Session the Property Partner told him, given his tradesman expertise and his current portfolio, his equity was more suited to a renovations-based strategy.
This is why the initial conversation with your Property Partner is so important because we learn about you, your goals, and what resources you have.
Property Partner Toby Pascoe says his personal tip to all would-be investors is to come along to these meetings fully prepared to really delve into your financial situation.
We get it - talking about money with someone else, at this point a total stranger, is not something we Kiwis do comfortably.
But, rest assured, everything is confidential and necessary to create those important long-term future goals.
The second part of the Portfolio Planning Session is where investors co-create a property portfolio plan using Opes' in-house software, MyWealth Plan.


Put simply, MyWealth Plan figures out:
The financial position investors want to be in the future
Where they're projected to be based on what they're doing right now
And then, if there is a gap, how to close it through investment property.
So to start with, we ask the big questions:
What you are trying to achieve for yourself?
What's important to you? Do you want to make money now, build wealth, or save for retirement?
What sort of income do you want to secure when your retire?


Often investors won't have set answers to these questions when they walk in the door, or click the Zoom link. So this is where your property partner can help you define exactly what your goals are based on and the future lifestyle you want to live.

Once we've got that goal sorted, we can project how close you are to achieving that goal based on what you are doing right now. For instance, do you have savings squirrelled away, or investments, like KiwiSaver, you are already building?
Once we know what your goal is and whether you're on track for it, you can determine the property portfolio you'll need to achieve your goals.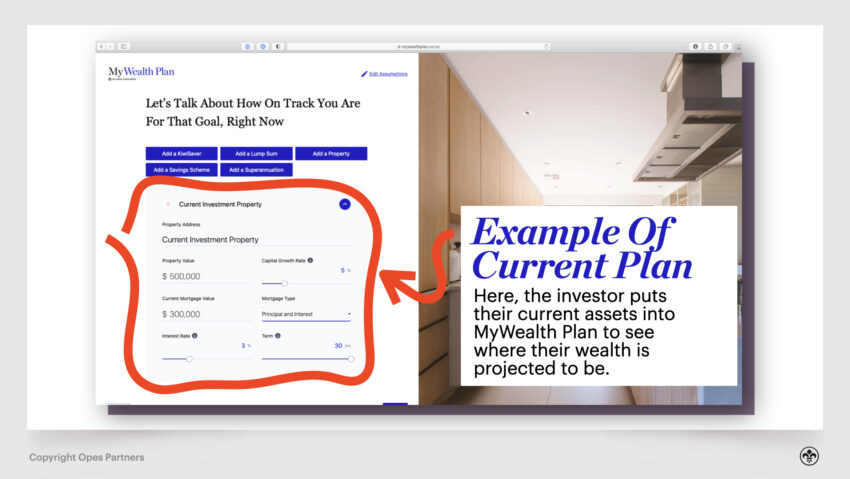 Spoiler alert: most Kiwis have a gap between their future aspirations and what they're on track for. And that's normal. This is why you're talking to a financial advisor about how to achieve your aspirations through property.
Let's go through an example so you can see exactly how it works.
Hypothetically, let's say you want to live on $70,000 a year in your retirement.
But MyWealth Plan says you're on track to only have $35,000 per year, based on current financial projections. So there's a $35,000 gap per year.

You would then use the tool to create a portfolio plan, which might look like:
Year one: Buy a high-yielding property in Auckland
Year two: A growth property in Rolleston, Canterbury.
And so on, until the investments are projected to fund your desired $70,000 a year in retirement.

After you've finished MyWealth Plan, your Property Partner can look for properties. They'll select potential investments you can realistically afford and fit your new financial plan.
You leave this meeting with a pdf plan. This is your plan. For most investors who come and see us … this is the first time they've ever had a written plan for how they'll achieve their future goals.
Property Selection Meeting
Step #2 – Find the Properties / Property Selection Meeting
The second meeting – the Property Selection Meeting – is where investors are presented with potential investments, which they then run the numbers on.
The Property Partner will have spent the time in between these two meetings to hand-select properties from our approved list for the investor.
These properties meet our 23-step checklist and are from one of our developers we chose to work with.

Opes' Partners regularly works with 58 developers we have looked into. These are developers who have a solid track record and have proven they build quality housing.
So, your Property Partner will usually have 3-4 properties to recommend to you, which are chosen based on the plan discussed in the first meeting.

After looking through the information packs, you then analyse your potential properties using a Return on Investment spreadsheet.
This is a special version of our in-house spreadsheet that matches up with your MyWealth Plan.
This second meeting is pretty data-heavy and delves deeply into the nitty-gritty world of turnkey developments. The ROI spreadsheet is a meaty document made up of hundreds of formulae based on the latest tax regulations.
Opes Property Partner, Preston Johnston says, while he is restricted to talking only about property, he will make sure the other things are checked off and he'll point you in the direction of experts.
For example, he'll check what entity the investor will be using - be it a trust or a Look Through Company (LTC). He'll also suss out the relationships the investor is in and the family situation.
"More often than not advice is from mistakes I've made and that's great about finding someone you do trust. You don't have to find out those mistakes for yourself."
At the end of this meeting you'll have decided on the property, or properties, you'll want to look into in the future during due diligence.
From there, it's about getting it under contract and embarking on due diligence.
Due Diligence
Step #3 – Make Sure The Property Is The Right One In Due Diligence
Due diligence is a 10-day period where an investor can investigate the property they would like to buy to see if it stacks up.
The 10-day timeline begins once the property is under contract, and then you can go about interrogating the property from all angles. You'll also be finding out if you can borrow the money to finance your investment.
The whole process requires juggling a lot of players and runs on a tight deadline. But it's there to serve you, the investor.
For example, in the 10 days you will speak to:
Yes, the whole thing can feel a bit overwhelming at first.
This is why, at this point, the investor will be introduced to an Opes Customer Relationship Manager who will project manage this process of due diligence.
They will introduce you to professionals we, as a company, have pre-vetted, have worked with before, and can vouch for.
The client relationship manager organises all the steps on your behalf and does all the "stressing" for you.
By this we mean they will be checking in with the mortgage broker to see where the banks are at; chatting to the accountant; making sure the site visit is organised; and aiming to ensure a developer will be there.
Opes' website has an in-depth section dedicated to the steps of due diligence so you know what to expect at each step along the way.


Finally, if at the end of the 10 days you decide it is the right property and your finance is accepted - you'll confirm and your contract will go unconditional.
But, because you have most likely bought an off-the-plan property, you now have to wait for the property to be built.
Don't worry, the client relationship manager will regularly update you on the construction.

You will also complete the final stage of settlement with them. Find out more at What Happens At Settlement For My New Build?
Congrats, you're now an investor.
Following on from this, you will meet your property partner every year to review the plan and go about expanding your portfolio.
Costs Explained
How Is This All Free?
It might be confusing for some investors who wonder how we keep the lights on and our families fed when our core service is free.
We also provide a whole bunch of information free of charge.
Well, we make money in two ways.
Firstly, we make money by recommending properties as investments. Opes works a little bit like a stockbroker.
For example, if you called up a stockbroker and they recommended a particular share to invest in, they will get paid a fee if you take up that recommendation.
We work in the same way, but with properties.
Our property-sourcing team are consistently out talking to developers, looking for properties that make awesome investments.
So, when we recommend a property to you through the coaching programme, we get paid a fee by the property's developer if you think it's a good recommendation and decide to invest.
The second way is through our other property-based businesses.
As well as the property coaching side of our company, we also have other businesses that serve investors.
If we coach you to purchase a property and we do a good job, you might consider using them. So we can earn money through –
Although, of course, it is up to you whether you choose to use these companies.
Commission
A Note On Commission
Some investors might worry that if Opes gets its money from developers when it helps investors buy a property, it might affect what properties we recommend.
Before you invest in a property we recommend, it's compulsory to have an independent valuation completed.
This means if the price is too high, you would know straight away. This is how we ensure you are never paying more for a property than what it is actually worth.
From our side, we always get paid the same 'fixed-fee' no matter the price of a property.
This means, regardless of whether you decide to invest in a $400,000 property or an $800,000 property, we always get paid the same amount.
This is how you can have the confidence we are as impartial as possible, and have your best interests at heart.
It's important to note, as financial advisors, property partners are morally and legally obliged to act in your best interest.
The fact there are 58 developers to choose from helps facilitate this moral code because partners are able to draw from a whole bunch of plans to cherry-pick the best suitable investment.
It would be more difficult to do that if only working with a handful of developers.
Get Started
Ready To Get Started?