Introduction
A How-to Guide to Valuations
It might sound simple. Like everyone should know it.
But many homeowners don't actually know what their home is worth today, in the current market.
That makes sense when you think about it.
If you bought your home five years ago you might not have thought about its value, since you've been enjoying living there.
It's only now that you want to use the equity you have in your home to buy an investment property or make another purchase that you need to figure out its value.

In this article you will learn 5 ways to figure out what your home is worth, so you can get a feel for what you would get if you put it on the market.
Why Is It So Hard to Get an Answer?

Because each house is different it's hard to put an exact value on it until you take it to the market. Only when you have multiple buyers trying to buy your home will you discover what the market really thinks it's worth.
homes.co.nz
1st Line of Defence: Homes.co.nz
The first place you can look is online. The best place to get a general starting point for your property value is homes.co.nz.
As you can see from the screenshot, homes.co.nz (which we aren't affiliated with) is the only website that gives an estimate of the value of your property today.
Homes.co.nz allows you to type in any address and it will give you an estimate as well as an estimated range for what your property is worth.

This is a computer-generated estimate only based on data that is publicly available.
The amount of data differs from council to council and so the accuracy of the estimate depends on where your property is located.
At its lowest point, homes.co.nz estimates its median valuation is only 3.08% off for the Matamata-Piako District, and up to 20.06% off for the Ruapehu district.
However, because the valuation is often refreshed once a month you can be confident the computer estimate is based on the latest stats and market movements.
If you are looking at whether you can invest, it is worth plugging this figure into our quiz here, so you can see whether you're in the right position to get started in investment property.
CV, RV & GV
Why not use CV or RV?
If you've ever read an advertisement for a property, you'll see RV, CV or GV used. These stand for Rateable Value, Council Value and Government Value, but they're all broadly the same.
These valuations are used by your local council to set your rates (a type of property tax), so they know how much to charge you each year to keep the local council going.
Many websites, like homes.co.nz, can give you the capital value or registered value, and you may even know it yourself.
However, in the case of registered values, these are only updated every 3 years – which can mean they're not very accurate. A lot can happen in the market in 3 months, let alone 3 years.
The computer-generated value from a company like homes.co.nz is often refreshed every month, so tends to be more accurate.
The last RV for the example property from above, 17a Burke St in Christchurch, was completed in August 2019.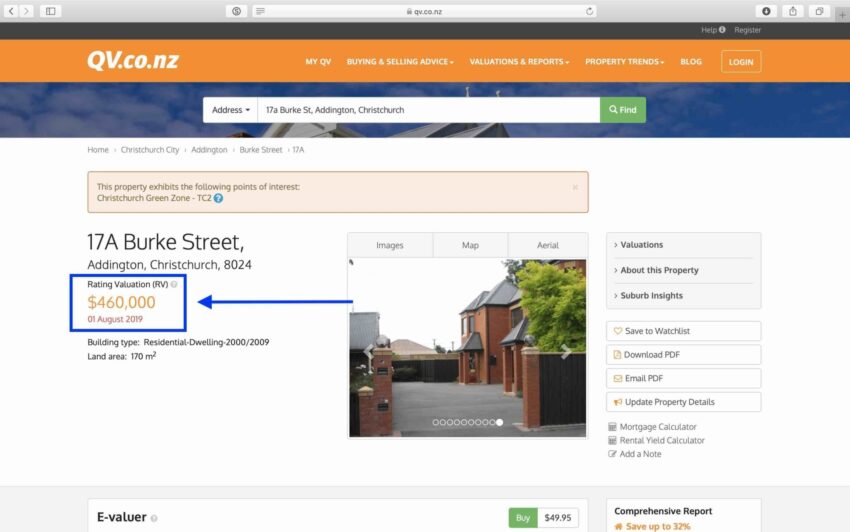 If you're reading this in early 2020, for instance, that's 6 months ago. A lot can change in that time, so while RV is useful to set rates, it's not necessarily what the value of your home is now.
e-value
2nd Line of Defence: e-value
If you're serious about investing in property or making a top-up on your mortgage, the next type of valuation to be aware of is the evalue. This is another type of computer-generated valuation, but this one is officially recognised by the banks.
There are two companies that set these values – Core Logic and Valocity. Both supply data to banks. Core Logic's computer-generated value is the evalue and Valocity's is called an avm (automated value metric).
Many real estate agents, mortgage brokers and people in the property industry subscribe to these companies so you can ask them to look up what your current evalue is.
This is refreshed monthly, like homes.co.nz. But because it is officially recognised it's fair to treat it as more credible.
Registered Valuation
3rd Line of Defence – Registered Valuation
Once you've applied for a mortgage you may be required to complete a registered valuation.
This is where you will pay (usually about $750) to a professional valuer who will appraise your house and give you an estimate on what it might fetch on the market. These professionals need to complete a degree in property and take a total of 6 years to become registered.
This is a valuation accepted by banks as an official, independent and professional estimate of the property's value.
They are fully independent and take into account your specific property, any renovations you've made, and market conditions.
When to Get a Registered Valuation
Should you fork out for a registered valuation report?
These valuation reports often cost around $750 – although they vary by valuer, so you should only get one if you really need it ...
For instance, if your bank requires you to undertake a valuation of your own property before they lend against it – perhaps because your RV is too low to lend against compared with your mortgage.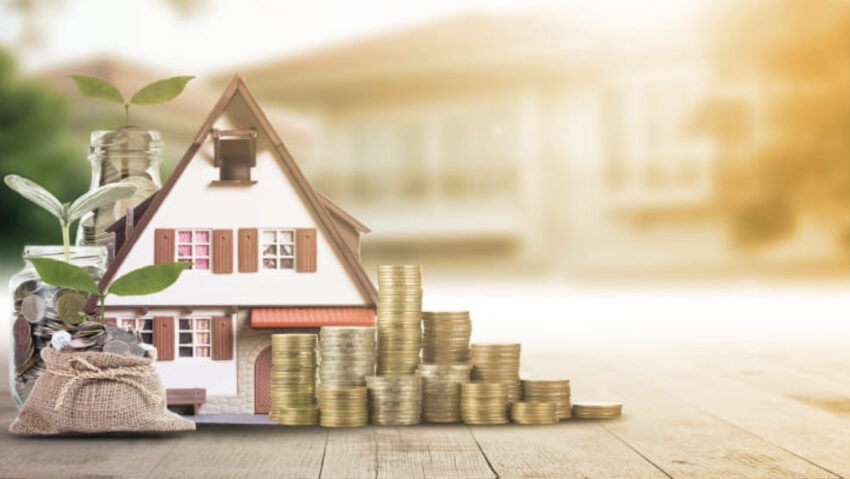 Or, if you've recently renovated your property, which has increased the value. In this case you will want the bank to recognise the new value of the property so they will lend against it.
If you want to get started in investment property and the bank won't lend to you because it won't recognise the existing RV, then these are good reasons to shell out for an updated value.
Real Estate Agent's Appraisal
The One Not to Get: A Real Estate Agent's Appraisal
The final type of 'valuation' you can get is a real estate agent's appraisal of what your home might sell for on the open market. These valuations are generally not worth the paper they are printed on.
Some real estate agents will be biased and will give you a high appraisal in order to secure your listing, knowing they will need to lower the price later in order to sell.
Who are Opes Partners?
Who are Opes Partners and can they help me?
What is the 3-Step Opes Coaching Programme?
1. Plan out your property investment portfolio
The first step in the programme is to co-create a plan using our MyWealth Plan software. We built this software specifically to help Kiwis create a financial plan in under an hour.

You'll leave this 1-hour session with a written down plan. Pen to paper.


2. Pick properties that fit with your plan

Once you've created your plan in step #1 – your property partner will go out and find properties that fit your plan. They'll search through projects from up to 58 developers to find the best ones for you.
When you meet again, you'll review the top picks, go through the analysis, crunch the numbers together, and then decide which ones to hold with the developer.
3. Dig into the details – Confirm it's the right property for you
Once you've selected a property, you'll work for 10 days to make sure it's the right property for you. So you'll work with your Property Partner and Client Relationship Manager to dig into the details of the property.
You'll go and look at the development and be introduced to mortgage brokers, solicitors, accountants, and property managers. Their sole job is to help you figure out if this property works for you.

And you'll have access to all the resources, tools, and data … so when confirmation day comes, you have confidence you know you're making the right decision.
Who is the Opes Coaching Progamme the right fit for?
You understand the concept of property investment, but who wants help putting it into practice.
You want a "Done for you" property investment service, so you can be a hands-off investor.
You are someone who has at least a 10 year investment time horizon.
And finally, you're ready to become a property investor.
Who is the Opes Coaching Progamme is NOT the right fit for?
You're more into the smell of paint or the colour of a wall than the numbers that stand behind an investment property.
You only want investments that are hands-on, so you can save a few dollars here and there.
You have plenty of time on your hands and want to do the property investment process yourselves.
You're looking for an overnight success and want to get rich quickly.
What does it cost to work with Opes Partners and go through the programme?
It's free. Complimentary. No Cost.
Why?
The developer pays us a marketing fee when you confirm that the property is the right fit for you. Very similar to the way a mortgage broker gets paid by the bank.

Now it's important to note that we are paid the same fixed rate no matter what property you invest in.
If it's a $500k apartment in Christchurch or a $1.3 mil 3-bedroom townhouse in Ponsonby – we get paid the same rate.
That's important because then we can recommend the right property for you, and there's no incentive to recommend you invest in a more expensive property, just so we get paid more.
I want learn more about how Opes can help me