Introduction
Dual-key apartments are a relatively new concept for New Zealanders.
And depending on where you buy, they can be one of the more expensive investment options.
So you might ask … "are they a good investment?" And more importantly, "who are they a good investment for?" Here's our honest review.
In this article you'll learn what a dual-key apartment is; their unique features; and if this type of property is suited to your property portfolio.
What Are They
What Is A Dual-Key Apartment?
Essentially, a dual-key apartment is two separate but adjoining units held under one legal title.
So, from a tenant's or home buyer's perspective, the two apartments feel separate, but legally they are the same property.
Here's an example floor plan from a development in Ellerslie, Auckland
In the above example the size of the property is the same as a 2-bedroom apartment (75sqm). However, it is configured as a 1-bedroom and a studio.
For a property investor that means the two units can be rented separately to two different households under separate tenancy agreements. So you have two sources of income, which maximises your Rental Yield.
From the tenant's perspective, apart from a shared entrance way, they are totally separate.
Cost
How Much Does A Dual-Key Apartment Cost?
Generally speaking you can expect to pay anything from $950,000 up to $1.3 million for a dual-key apartment in Auckland.
For example, Opes recently recommended dual-key apartments being built in Ellerslie, Auckland. The developer was Safari Group, and the project featured on our reality TV style show, The Deal.
The most affordable dual-key apartment in this development was $915,000. This is at the upper end of what an investor would typically spend on a New Build investment.
However, purchasing a dual-key apartment is generally cheaper than purchasing the equivalent apartments separately.
For instance, in the example of this Ellerslie development, a dual-key (1-bedroom apartment + studio) cost $915,000.
But, if you were to buy a 1 bedroom apartment and studio separately (i.e. not dual-key) in the same building, it would cost $1.15 million.
In Christchurch properties tend to be cheaper. Another set of our investors recently purchased into a development of dual-key townhouses.
In this situation the bottom floor was a studio apartment, and the top two floors were a two-bedroom townhouse.

This was purchased for $799,000, and the estimated rent was $920 a week.

Yield
What is the yield on a dual-key apartment?
Dual-key apartments are considered a yield-based investment. They tend to grow in value more slowly, but they offer higher rental yields.
To take the example of the Ellerslie apartment above, the rent was expected to be $515 for the one-bedroom, and $480 for the studio. That's $995 of income per week. Based on the purchase price of $915,000 – the property would generate a 5.7% gross yield.
In the example of the Christchurch dual-key townhouse, the properties would earn $920 a week. This is a 6.0% gross yield, based on the $799,000 purchase price.
Generally, an acceptable gross yield for a dual-key apartment is between 5.5% – 6.5%.
Good Investment?
Do Dual-Key Apartments Increase in Value as Fast As Other Properties? And What's the Re-sale Market Like?
Dual-keys are a yield-based investment (as opposed to a growth-based investment). This means they earn high income, but they grow in value more slowly.
This is because:
1) Dual-keys tend to be apartments, and apartments tend to grow in value more slowly.
That doesn't mean they don't increase in value; they just do so at a slower rate.
2) Dual-keys are a niche product. There aren't as many buyers out there looking for a dual-key.
Typically, these properties are bought by investors for rental yield. So, the increase in value primarily depends on how fast the rental income grows and the return other investments could provide the investor.
This limits how fast the value of these properties will increase compared with other properties, which owner-occupiers will bid up the price for.
However, that doesn't mean these properties aren't bought by owner-occupiers, or that you could only resell the property to an investor.
For instance, some people purchase these properties, live in one apartment and rent the other. This provides a home and income. They then use the rental income to help pay the mortgage.
Others use these types of properties for their multi-generational family. A teenager or parent lives in the studio while another family member of members live in the other dwelling.
In one case an elderly lady bought a dual-key apartment so she could live in the larger unit while her full-time carer lived in the other.
As multi-generational living becomes more popular it's fair to say that dual-keys will become more accepted and the resale market will continue to grow.
So, while they are a relatively new style of investment available in New Zealand, there are genuine reasons why they're becoming popular, which is worth knowing in terms of the re-sale market.
What Do They Look Like?
What Do Dual-Key Apartments Look Like?
Using the same Ellerslie property as an example, here's what a dual-key set-up can look like.
The units have a shared entrance, which then flows into two separately lockable apartments. Hence the name: Dual-key.
So, as you enter the door to your dual-key from a corridor, you are met with a small lobby space of about 3sqm.
To your right is the 1-bedroom unit; turn to the left for the studio.
Each apartment has exactly what you would expect of a separate dwelling – its own bedroom (or bedrooms), living area, kitchen and bathroom.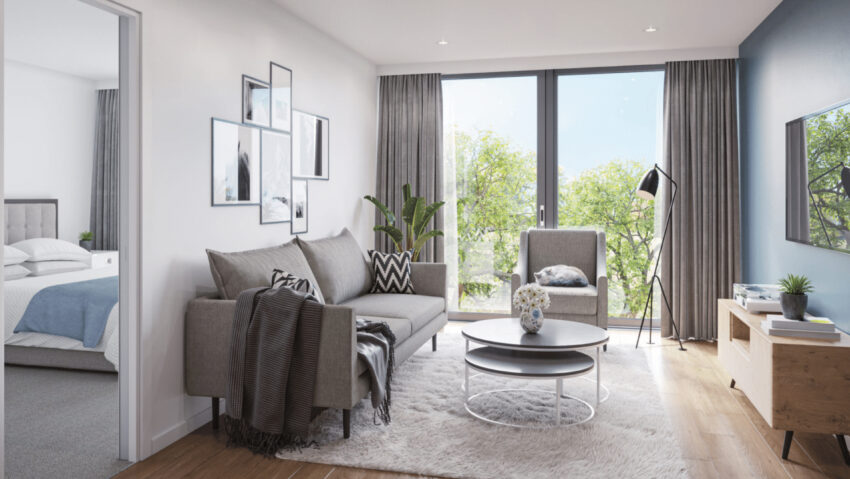 Example
Dual-Key Apartment Example
To give another example, Opes recommended some "off-the-plan" dual-key apartments in Dixon Street, Wellington back in March 2017.
At the time the apartments cost $525,000.

There were big delays, and the development took an extra two years (4 years in total) to complete, but the value had ballooned during the construction period to $840,000.
That's a 60 per cent ($315,000) increase over just 4 years and 2 months.
Despite this being a large amount of growth, it was still 20% slower than the surrounding Wellington market. (Remember, dual-keys don't increase in value as quickly as other properties).
During this period dual-key apartments grew 10.8% per year while the overall Wellington market lifted 12.2%, according to the REINZ House Price Index.
However, let's think about the rental income and yield within the same period.
When the apartments were first advertised, the rental income was estimated at around $650 per week.
By the time they were finished they were renting for between $1,000 and $1,200 per week. That's a 7.4% gross yield.
Where Are They?
Where Are Dual-Key Apartments Being Built?
As higher-earning, yield apartments, dual-keys are found in the central suburbs of a city, which is where the rental demand makes sense for them to be.
In Auckland those are areas like Newmarket, Ellerslie and Parnell, which are close to the CBD and have great access to public transport and are near all the amenities like shopping malls.
Who Are They Right For?
Who Is A Dual-Key Apartment The Right Fit For?
The flexibility of these units makes them an attractive option to investors who are looking for a high-yielding option to add to their portfolio.
These tend to be older investors, or those looking to slow down from work and use property to supplement their income.
However, if you are building your wealth dual-key apartments can still be used in your portfolio. Some investors will use these properties to top up other properties in their portfolio that are negatively geared.
In other words, if you own a townhouse that is negatively geared by $100 a week, you might buy a dual-key apartment that earns $100 a week. This way the yield property pays for the growth property's contributions.
While it's cheaper to buy a dual-key, rather than to buy two units separately, it still requires more to invest. So, these tend to be a good fit for investors who can afford to spend a bit more on an investment property and are looking for yield.
Who Are they Not Right For?
Who Is A Dual-Key Apartment The Wrong Fit For?
On the other hand if you are an emerging investor with limited borrowing potential then you might think about starting off with a less expensive option.
Also, since dual-keys are a high-yielding product, rather than a growth asset, if you were looking to build your portfolio with growth properties you might be better suited to something like a 3-bedroom townhouse in Auckland, or a 2-bedroom townhouse in Christchurch.
In addition, since dual-keys tend to be newly-built by developers, renovations-focused BRRRR investors are not suited to this type of investment. That's because the developers have already fully-specced out the property: you can't renovate to improve value.
Conclusion
Not Every Dual-Key Is A Good Investment
All things considered, dual-key units can be an attractive option for investors.
More flexibility and more potential income make them a good investment for different reasons. But it is important to note that not every dual-key will automatically be a great investment for every investor.
Ultimately, it comes down to the numbers and being able to sort the good investments from the bad.
That's why, here at Opes, we work with 58 developers from around NZ to find the right properties for Kiwi investors. And then once we find them, we rigorously run the numbers to offer good investment properties to our investors.
To find out more about how we find quality investment properties for investors, click here to read about our property investment programme.
Who are Opes Partners?
Who are Opes Partners and can they help me?
What is the 3-Step Opes Coaching Programme?
1. Plan out your property investment portfolio
The first step in the programme is to co-create a plan using our MyWealth Plan software. We built this software specifically to help Kiwis create a financial plan in under an hour.

You'll leave this 1-hour session with a written down plan. Pen to paper.


2. Pick properties that fit with your plan

Once you've created your plan in step #1 – your property partner will go out and find properties that fit your plan. They'll search through projects from up to 58 developers to find the best ones for you.
When you meet again, you'll review the top picks, go through the analysis, crunch the numbers together, and then decide which ones to hold with the developer.
3. Dig into the details – Confirm it's the right property for you
Once you've selected a property, you'll work for 10 days to make sure it's the right property for you. So you'll work with your Property Partner and Client Relationship Manager to dig into the details of the property.
You'll go and look at the development and be introduced to mortgage brokers, solicitors, accountants, and property managers. Their sole job is to help you figure out if this property works for you.

And you'll have access to all the resources, tools, and data … so when confirmation day comes, you have confidence you know you're making the right decision.
Who is the Opes Coaching Progamme the right fit for?
You understand the concept of property investment, but who wants help putting it into practice.
You want a "Done for you" property investment service, so you can be a hands-off investor.
You are someone who has at least a 10 year investment time horizon.
And finally, you're ready to become a property investor.
Who is the Opes Coaching Progamme is NOT the right fit for?
You're more into the smell of paint or the colour of a wall than the numbers that stand behind an investment property.
You only want investments that are hands-on, so you can save a few dollars here and there.
You have plenty of time on your hands and want to do the property investment process yourselves.
You're looking for an overnight success and want to get rich quickly.
What does it cost to work with Opes Partners and go through the programme?
It's free. Complimentary. No Cost.
Why?
The developer pays us a marketing fee when you confirm that the property is the right fit for you. Very similar to the way a mortgage broker gets paid by the bank.

Now it's important to note that we are paid the same fixed rate no matter what property you invest in.
If it's a $500k apartment in Christchurch or a $1.3 mil 3-bedroom townhouse in Ponsonby – we get paid the same rate.
That's important because then we can recommend the right property for you, and there's no incentive to recommend you invest in a more expensive property, just so we get paid more.
I want learn more about how Opes can help me