Introduction

Generally speaking, developers pick a side. They either choose to do 100% residential properties or 100% commercial.
Safari Group is different – because they chose both.
In fact, Safari Group is pretty much leading the charge for mixed-use hotel developments across New Zealand. They currently build in Auckland, Wellington and Queenstown.
This makes them different from many of the other developers we've reviewed.
Rather than building townhouses and apartments, Safari builds hotels that also include residential apartments in the same building.
So, Safari Group are building different properties. But what else makes this developer any different? And are the properties they're building a good investment?
These are great questions, and ones we here at Opes Partners get asked all the time.
So, in this article you'll learn the pros and cons of Safari Group, and whether one of their apartments might be right for your property portfolio.
Disclaimer: Here at Opes we recommend new build investment properties to investors. And at the time of writing, Safari Group is one of the developers some of our investors choose to buy from, which we earn a fee from. This does mean there is an incentive for us to tell you they are the best thing since sliced bread and you should definitely buy from them.
But even though there is an incentive for us to be biased, we're still going to be fair, honest, and fact-based. This way, you can decide whether they're the right fit for you. The answer may be 'yes', but it could also be 'no'.
Who Are They?
Who Is Safari Group?
Safari Group takes a unique position within the new build market. This is because they develop mixed-use hotels, where property investors can either buy a commercial hotel room, or a residential apartment within the hotel.
The company was founded in 1996 by Rob Neil and Stephen Taylor.
Initially, Rob and Stephen started out with small projects, building hotels for big hotel brands like Quest and Ramada.
But as they gained more experience, they realised they could add a residential component as well.
The company now has 45 employees, and remains a family business. Stephen's two sons, Damien and Simon, are both involved as directors.
Not everyone in the company is related, but there is a strong family vibe throughout. For instance, there is a father and son working together as quantity surveyors and a husband and wife working in the office.
While Safari Group has primarily focussed on hotel development, recently they have started to branch out. They are currently working on a project of 24 apartments and 6 villas based out of Queenstown.
Q: Who are the directors of Safari Group?
A: Safari Group has five directors, listed on the companies website: Robert Neil, Damien Taylor, Ian Pitham, Simon Taylor, Joshua van Veen.
Q: What sort of properties do Safari Group build?
A: Safari Group almost exclusively builds mixed-use residential hotel developments.
Q: Where does Safari Group build its properties?
A: Safari Group develops in Auckland, Wellington and Queenstown.
What Are They Like?
What Are Their Developments Like?
Here's how a Safari Group project typically works.
They'll build a hotel, which will operate under a hotel brand name, like Ramada or LQ.
The first few floors remain commercial hotel rooms. These can be bought by investors, who then receive a share of the income from people who book through the hotel.
But the top floors are a mix of: studio, 1-bedroom, 2-bedroom and dual key apartments. These can also be purchased and then rented out as long-term residential accommodation.
While there are many options within Safari Group developments that Kiwi property investors can consider, the main opportunity we see is the dual key apartments. We'll get to why a bit further on in the article.
Because some of the investors we work with at Opes Partners have purchased Safari Group properties, we have insight into the quality of the developments.
In our experience, Safari Group's apartments are designed well with high-spec materials. Their properties aren't built with any weird angles and all the finishings are of good quality.

Their properties tend to be built in the central suburbs of a city, which is where the rental demand makes sense for them to be.
In Auckland those are inner-city suburbs like Newmarket, Ellerslie and Parnell. These suburbs are close to the CBD ­– without actually being in town.
Here is an example of how some Safari Group apartments look:
Standard 1 and 2 Bedroom Apartments
The 1 and 2 bedroom apartments have similar floor plans.
There's usually an open-plan kitchen/dining/living area with the bedroom adjacent.
Usually, their 1-bed apartments are around 49sqm, going up to 61sqm. The bathroom works as an ensuite as well as having a door to the kitchen area.
The 2-beds are a bit larger at 74-76sqm, but some can go up to 104sqm. In our experience, anything over 65sqm is a good size for a 2 bedroom apartment (depending on the configuration).
The extra space allows for an extra bathroom too, which means the master has an ensuite while the second bedroom shares access to the main bathroom.

The studio apartments are more compact and can be only 30sqm, with the bedroom sharing the dining/living space.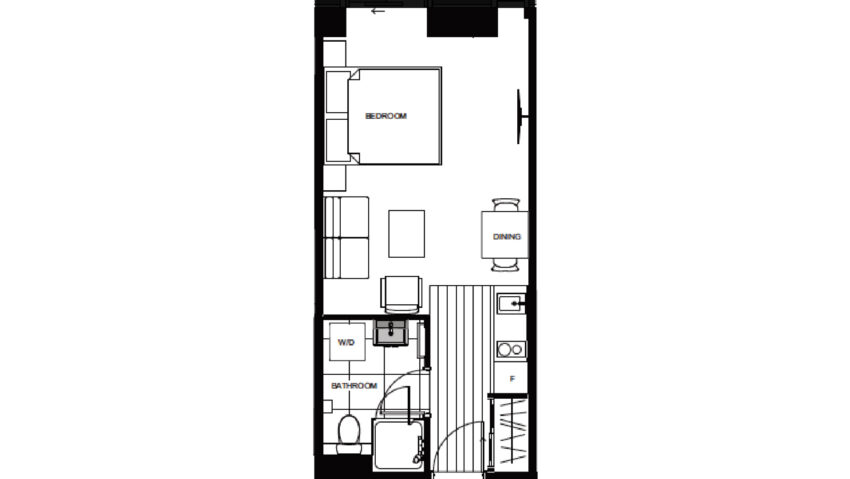 It's worth mentioning that sometimes banks require a higher deposit for small sized apartments.
For instance, at the time of writing, ASB only requires a 20% deposit for apartments with 40sqm or more.
However for any apartments with a smaller floor plan (like the studios mentioned above), they will require a high deposit – sometimes up to 50%.
Dual Key Apartments
Here's what a dual-key set-up can look like.
The units have a shared entrance, which then flows into two separately lockable apartments. Hence the name: Dual-key.
So, as you enter the main door, you are met with a small lobby space of about 3sqm.
To your right is the 1-bedroom unit; turn to the left and you've got the studio.
Each apartment has exactly what you would expect of a separate dwelling – its own bedroom (or bedrooms), living area, kitchen and bathroom.
The size is about the same as a 2-bed unit, which is 75 sqm and up to 89 sqm.
Safari Group Example
Example of a Safari Group Development
Here's an example of a property that some of our investors have purchased. It's a hotel/residential construction in Ellerslie, Auckland called: The Residences.
This property appeared on our show, The Deal, with director Simon Taylor pitching. This project has since sold out.
You can watch this episode of The Deal here.
The Residences is a 12-storey hotel, shared between 103 hotel units and 85 apartments. It's due to finish in 2023.
The first 4 floors are hotel rooms and above that are the residential apartments – a mix of studio, one bedroom and dual key. There is also a conference room, a meeting room, gym and cafe.
Prices begin at $435K for a studio with no car park, which jumps up to $715,000 for a 1-bedroom.

There are 40 1-bedroom units within this project, which make up about half of the residential properties within the building.
Next are the 2-bedroom units, and there are 17 being built within the project. These start from $850,000 and will rent for $720-$780 per week.
Finally are the dual keys, which are the most expensive (but the highest-yielding) options within the development. These were purchased between $915,000 – $975,000, and there will be 16 built within the development.
Because dual-keys are two separate but adjoining units held under one legal title, they are each rented separately.
So, the two units together will likely fetch $515 and $480 in rent a week, which is a combined rent of $995. This makes the dual keys the highest yielding option (and the best investment in our view).
How Much Do They Cost?
How Much Does A Safari Group Property Cost? And What's The Yield?
Safari Group offers one of the most expensive, high yielding investment opportunities you can buy: The dual key apartment.
Generally speaking you can expect to pay anything from $950,000 up to $1.3 million for a dual-key in Auckland.
But even between two examples of Safari Groups developments in central Auckland – the prices vary depending on the specs.
So, let's compare the prices between The Residences in Ellerslie and Ramada Residences in Newmarket.
(For context, Opes recommended some dual keys from both of these projects).
The dual keys in the Ellerslie development were between $915,000 and $975,000. The gross yield on this property was up to 5.7%.
The Ramada Residences in Newmarket also had a bunch of dual key apartments on offer, but they were slightly bigger and therefore more pricey.
For instance, a 1-bed + a studio on 74sqm was priced at $1,113,500 and is expected to rent for between $900 and $1,050 per week (if rented separately).
This suggests a gross yield of between 4.2% and 4.9%.
These Newmarket properties were less popular with Opes investors because they were more expensive and lower yielding. Generally, we aim for a dual key apartment to have a gross yield of 5.5% or above.
Are They A Good Investment?
Is A Safari Group Property A Good Investment?
Because Opes Partners has recommended selected Safari Group apartments to our investors in the past, we do think some are good investments.
However, not all their properties will meet our criteria and qualify.
For instance, out of all the different types of apartments available, we would only tend to recommend dual key apartments, and some studios in some rare instances.
This is because they are the only ones that meet our yield threshold or for other reasons.
Here is an example of both a good and a bad investment (in our minds) that Safari Group builds:
Dual Key – A Good Investment
Dual-keys are a yield-based investment because, despite the high price tag, they earn high income.
Therefore, typically these properties are bought by investors for rental yield.
Generally, an acceptable gross yield for a dual-key apartment is between 5.5% – 6.5%.
Having said that, dual keys do tend to grow in value more slowly.

This is because:
1) Dual-keys tend to be apartments, and apartments tend to grow in value more slowly.


2) Dual-keys are a niche product. There aren't as many buyers out there looking for a dual-key.
So, the increase in value primarily depends on how fast the rental income grows and the return other investments could provide the investor.
But this doesn't mean these properties aren't bought by owner-occupiers, or that you could only resell the property to an investor.
For instance, some people purchase these properties, live in one apartment and rent the other. This provides a home and income. They then use the rental income to help pay the mortgage.
Others use these types of properties for their multi-generational family. A teenager or grandparent lives in the studio while another family member of members live in the other dwelling.
As multi-generational living becomes more popular it's fair to say that dual-keys will become more accepted and the resale market will continue to grow.
So, while they are a relatively new style of investment available in New Zealand, there are genuine reasons why they're becoming popular, which is worth knowing in terms of the re-sale market.
Hotel Rooms – A Not So Good Investment
Here at Opes, we don't recommend that most Kiwi property investors put their money into hotel rooms.
That's because they tend to require a higher deposit (generally 50%) and you don't reap the same investment rewards in capital growth because it's not a residential investment. It's commercial.
So if you are the sort of investor who needs to grow their wealth for the long term, this would not be the right type of property to invest in.
Having said that, investing in a hotel room could be a good fit for investors who have the cash in the bank, and would like a higher return than investing in term deposits.
For example, the cheapest hotel room currently available is $255,000 and is expected to earn $15,000 a year in rent. That's a 5.9% gross yield.
But, remember, that you'd need to put in a $127,500 deposit, which you could use to buy a $637,500 townhouse elsewhere in the country.
And you do need to ask yourself, "what's going to be a better investment over the long term?" Is it a $255k hotel room, or a $637.5k townhouse?
One other point to discuss is that investors who buy hotel rooms often get 10 free nights a year in the room. So, if you've bought in Queenstown and you live elsewhere, this can be a bonus.
However, in our minds, you don't buy a property to get free accommodation – you invest to grow your wealth over the long term.
That seemingly 'free' 10-day holiday can end up costing you in terms of the missed opportunity to invest in something better.
So, if you are a first time buyer, an emerging investor, or needed to get a large mortgage to secure one of these hotel units – you'd generally be better off purchasing a more residential property.

Can I Trust Them?
Is Safari Group A Good Developer? Can I Trust Them?
Before Opes recommends properties to our investors, each developer goes through a detailed due diligence process.
We have found Safari Group to be well-established, good to work with, and with a strong track record.
Our team would put them as one of the top developers of dual-key and other types of apartments.

According to Opes, Safari Group has:
Built a number of projects
Has a significant pipeline of upcoming projects
Our understanding is they have good financial backing
This can give investors confidence the company has the scale to negotiate the supply of building materials and labour to complete projects.
Recently, the amount of Safari Group developments we have on our stock list has dropped. But this is reflective of the market, rather than the developer.
Who Are They The Right Fit For?
Who Is Safari Group The Right Fit For?
Some Safari Group properties will be a great opportunity for property investors.
In particular, those looking to invest in high yielding products will find the rentability of a dual-key apartment very attractive.
However, while it is cheaper to buy a dual-key, rather than to buy two units separately, it still requires more money up-front to invest.
So, these apartments tend to be a good fit for investors who can afford to spend a bit more on an investment property and are looking for yield. Generally, these will be older investors with an established portfolio looking to increase cash flow as they enter retirement.
They are also a very strong option for owner-occupiers who are going to live in the properties over the long term. Particularly those looking for a multi-generational set up, as we mentioned earlier.
These are the sorts of buyers who will pay the higher price to receive the unique product.
Who Are They Not The Right Fit For?
Who Is Safari Group The Wrong Fit For?
On the other hand if you are an emerging investor with limited borrowing potential … then Safari Group isn't going to be the right fit for you.
In this case, you might think about starting off with a less expensive option, like a 2-bedroom townhouse in Christchurch.
Also, since dual-keys are a high-yielding product, rather than a growth asset, if you were looking to build your portfolio with growth properties you might be better suited to something like a 3-bedroom townhouse in Auckland, or a standalone house in Canterbury.
In addition, since dual-keys tend to be newly-built by developers, renovations-focused BRRRR investors are not suited to this type of investment. That's because the developers have already fully-specced out the property: you can't renovate to improve value.
How Do I Buy One?
How Do I Buy A Safari Group Property?
If you've got your eyes on a Safari Group apartment, you have two main options.
#1 Go directly to them. They have an internal sales team, who can work with you.
#2 Use a property investment company, like us here at Opes.
This is where you'll get help from a financial advisor to:
Figure out which of Safari's properties are good investments (and which aren't)
Look at properties from over 58 other developers too, to see if there's a better option out there for you.
Read our article if you want to learn more about the differences between using a property investment company and going to a developer directly.
Conclusion
Should I Buy An Investment Property From Safari Group?
All things considered, if you purchase an apartment from Safari Group you can be reassured you are buying an investment in a high demand, central location, and from a reputable developer.
But the thing is, not all Safari Group apartments will be good investments.
This doesn't mean the other products are bad. Not at all. All that means is not every property is a good investment and this is true of most things.
At the end of the day, whether you should or shouldn't purchase a Safari Group apartment will hinge on the figures standing up and the deal you are evaluating.
Who are Opes Partners?
What is the 3-Step Opes Coaching Programme?
1. Plan out your property investment portfolio
The first step in the programme is to co-create a plan using our MyWealth Plan software. We built this software specifically to help Kiwis create a financial plan in under an hour.

You'll leave this 1-hour session with a written down plan. Pen to paper.


2. Pick properties that fit with your plan

Once you've created your plan in step #1 – your property partner will go out and find properties that fit your plan. They'll search through projects from up to 58 developers to find the best ones for you.
When you meet again, you'll review the top picks, go through the analysis, crunch the numbers together, and then decide which ones to hold with the developer.
3. Dig into the details – Confirm it's the right property for you
Once you've selected a property, you'll work for 10 days to make sure it's the right property for you. So you'll work with your Property Partner and Client Relationship Manager to dig into the details of the property.
You'll go and look at the development and be introduced to mortgage brokers, solicitors, accountants, and property managers. Their sole job is to help you figure out if this property works for you.

And you'll have access to all the resources, tools, and data … so when confirmation day comes, you have confidence you know you're making the right decision.
Who is the Opes Coaching Programme the right fit for?
You understand the concept of property investment, but who wants help putting it into practice.
You want a "Done for you" property investment service, so you can be a hands-off investor.
You are someone who has at least a 10 year investment time horizon.
And finally, you're ready to become a property investor.
Who is the Opes Coaching Programme is NOT the right fit for?
You're more into the smell of paint or the colour of a wall than the numbers that stand behind an investment property.
You only want investments that are hands-on, so you can save a few dollars here and there.
You have plenty of time on your hands and want to do the property investment process yourselves.
You're looking for an overnight success and want to get rich quickly.
What does it cost to work with Opes Partners and go through the programme?
It's free. Complimentary. No Cost.
Why?
The developer pays us a marketing fee when you confirm that the property is the right fit for you. Very similar to the way a mortgage broker gets paid by the bank.

Now it's important to note that we are paid the same fixed rate no matter what property you invest in.
If it's a $500k apartment in Christchurch or a $1.3 mil 3-bedroom townhouse in Ponsonby – we get paid the same rate.
That's important because then we can recommend the right property for you, and there's no incentive to recommend you invest in a more expensive property, just so we get paid more.
I want learn more about how Opes can help me